UniCredit
BancoSmart, an award-winning ATM

BancoSmart, an award-winning ATM
UniCredit
The human-centered approach is now central to the finance industry, as banks have become savvy in how to best connect to their customers' needs and desires.

As part of this trend, global banking and financial services company UniCredit Bank asked Experientia to create a user-friendly, people-centered ATM – the BancoSmart.
Easier and faster
The BancoSmart offers more services by using an advanced algorithm that offers users a personalized home page, geo-referenced billing options and tailored services.

Improved usability
Its UI makes it easier and more intuitive to use, including for people with poor vision; all levels of literacy and non Italian speakers. It is 33% faster in use, has attracted more than 25% of new (non UniCredit) customers, and reduced error rates (non-conclusive interactions) to less than 1%.

First mover in Italy
First Italian ATM using a touchscreen interface, allowing intelligent and optimized menu interactions. It has been rolled out all across the country.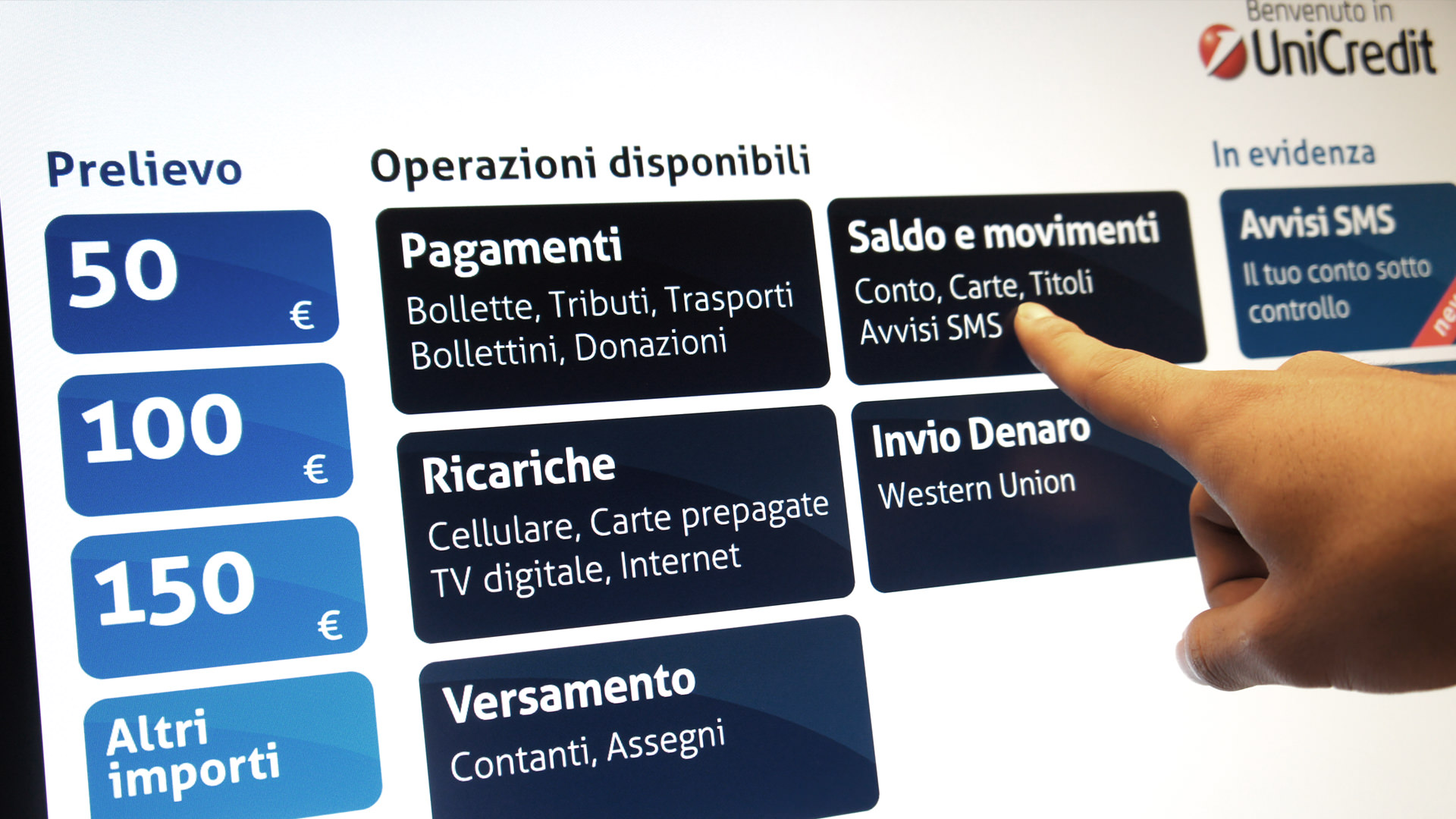 BancoSmart is an innovative, personalized ATM that actually learns people's behaviors and adapts to them.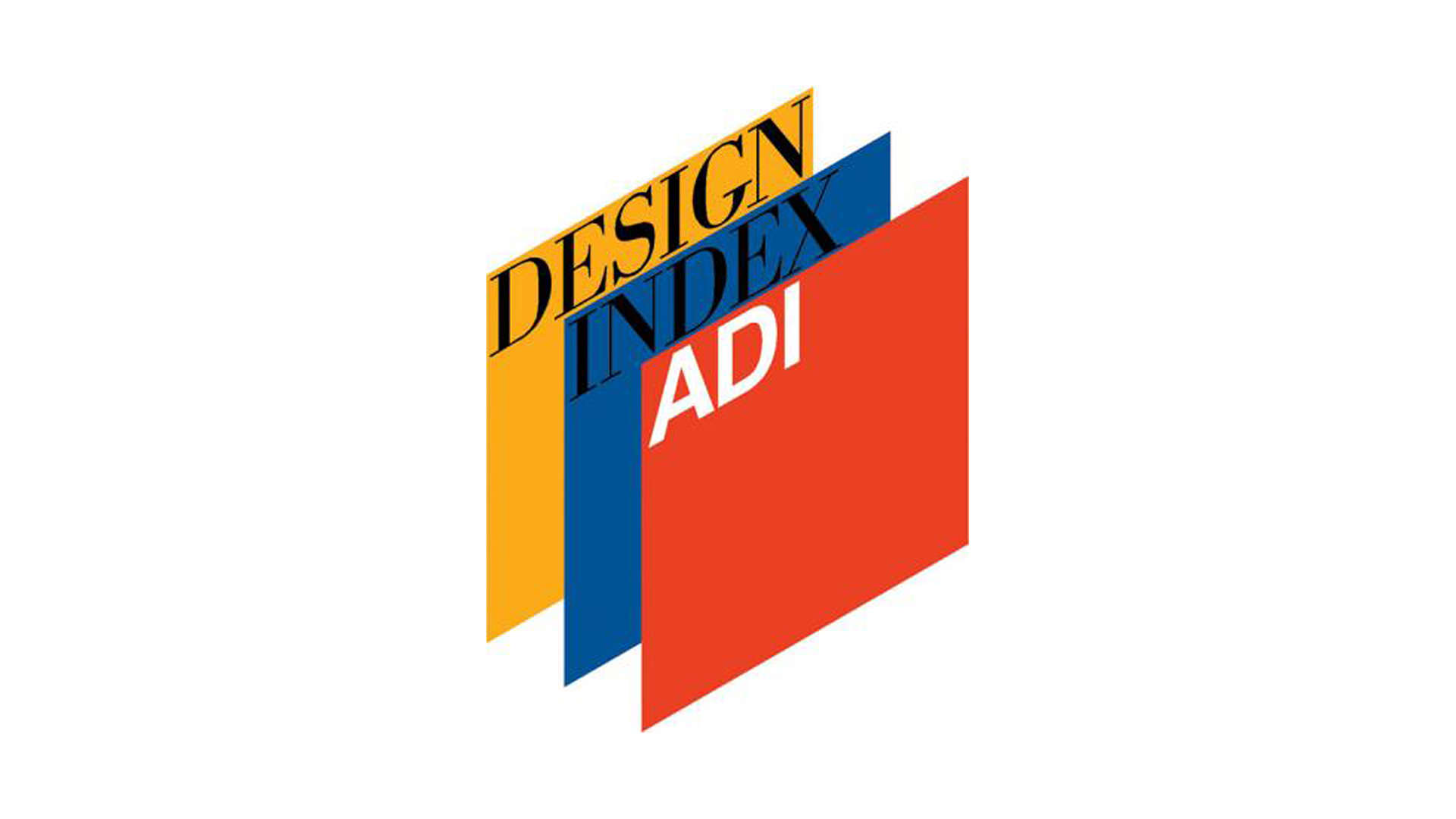 The ATM's user-friendly interface design was included in the prestigious ADI Design Index 2014.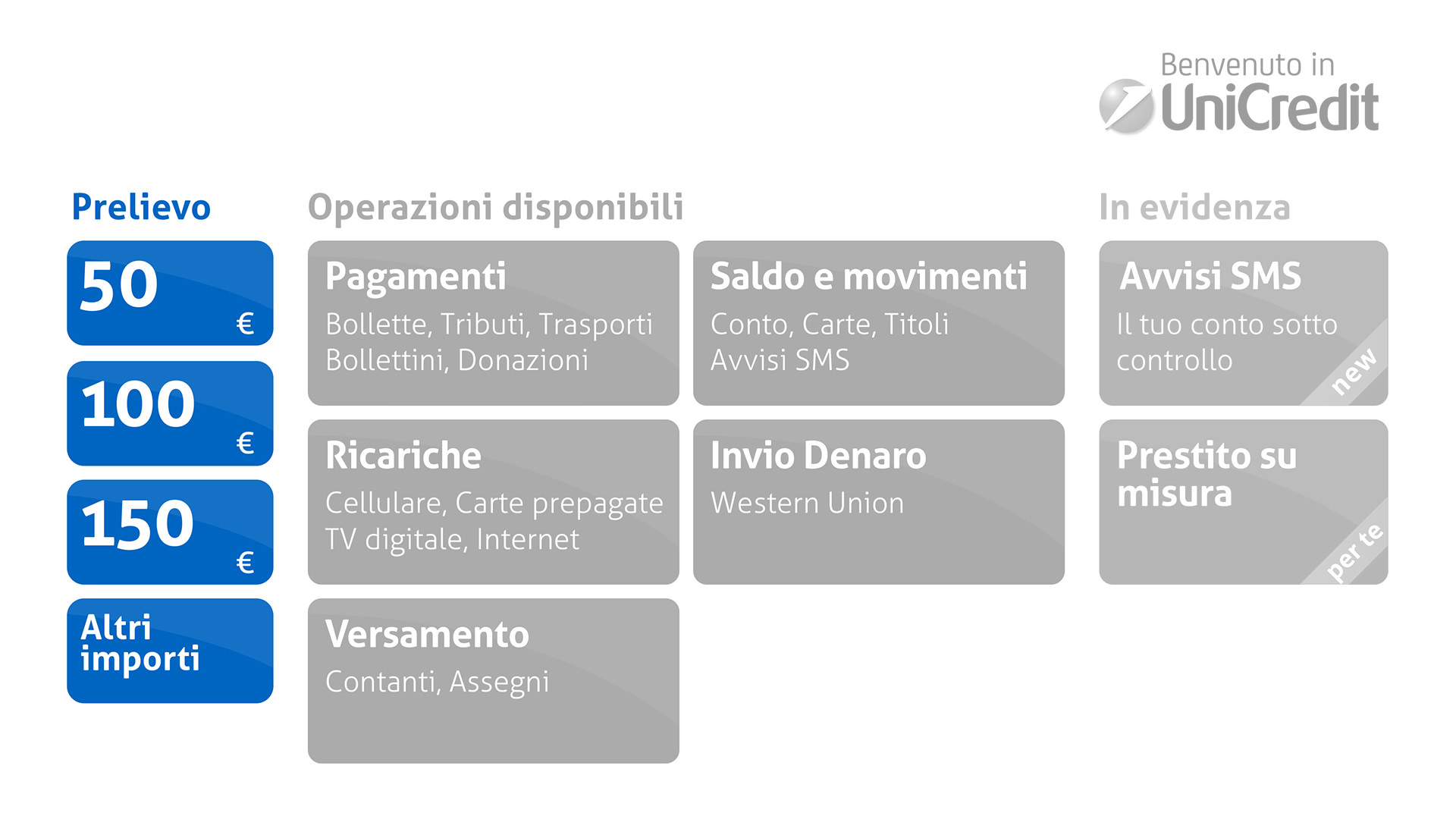 Speedy withdrawal remembers people's 3 most-used withdrawal amounts, and offers them direct from the homepage, for 30% faster cash withdrawal.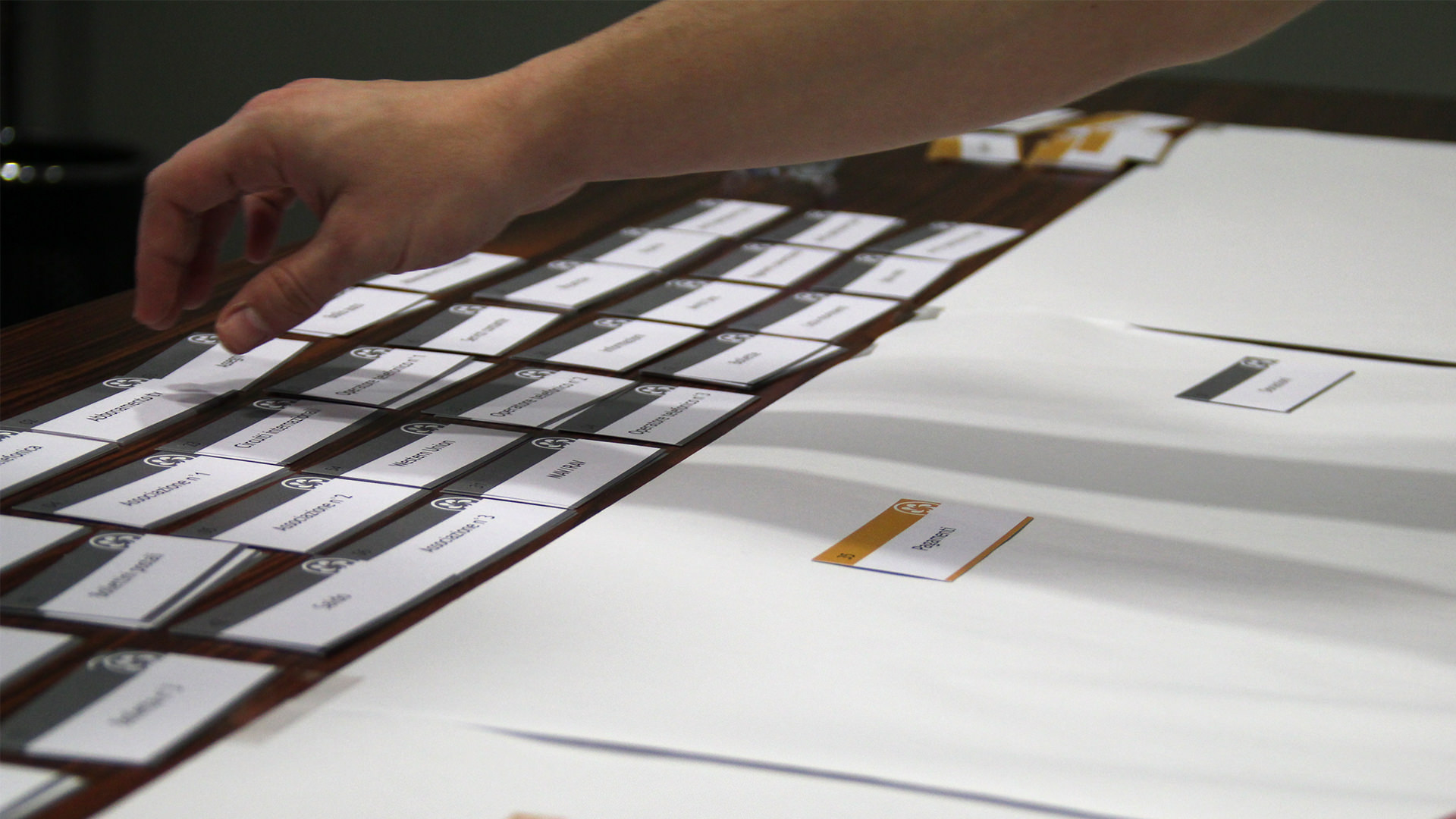 Participatory design and user research made sure that the ATM language and navigation is right on track with how customers think.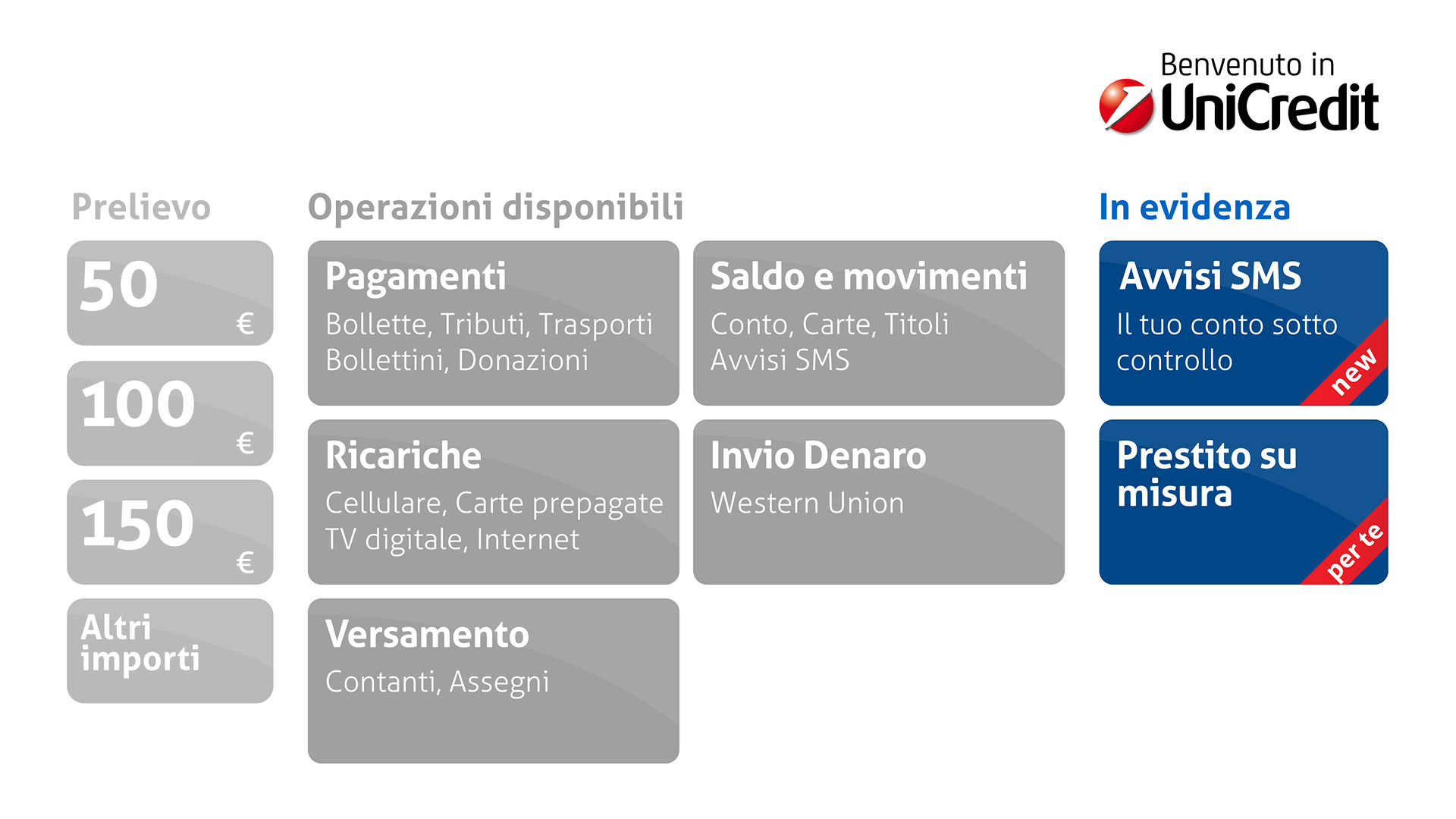 Context
ATMs are highly regulated in Italy: to make banking accessible they have to provide a wide range of services, including the payment of various utilities. Many ATM interfaces are not user-friendly and force people to wade through a succession of many screens. They use a language and an organization that reflects the bank, rather than the lived financial experience of the customer.

Challenge
UniCredit came to Experientia to refresh and redesign the interface. It had to run on various ATM hardwares including legacy terminals of different providers with various screen sizes and tech specifications. We convinced the bank that it could be reinvented, even within the constraints of regulation, hardware and underlying software.

Research
Experientia carried out in-depth user experience research with ATM users across Italy, spot interviews of current ATM users, stakeholder interviews, card sorting sessions and heuristic evaluation of existing UniCredit and competitor interfaces. This provided foundation for the information architecture and service design of the ATM.
We also conducted card sorting activities to create a new navigation structure that fits people's expectations of where to find features and functions.

Design
Experientia designed a responsive full touchscreen design solution that works on the various ATM's. We ran multiple cycles of design, prototyping and usability & user acceptance testing to ensure that the final interface is strongly based on people's financial behaviors and exceeds their expectations and needs for ATM use. The new menu structure offers much clearer guidance on what functions are found in each menu area, and always offers people the chance to go back to the home page. It has now been rolled out to all UniCredit's Italian ATM branches.

Impact
Experientia has reinvented the ATM interface for UniCredit – making it easier to use, faster, and with more services. One of the key innovations is its level of personalization – the ATM has a personalized homepage, with service offers tailored to people's banking profiles, and a speedy withdrawal function that offers the three most commonly used withdrawal amounts, personalized to each individual user based on their past behavior. Placing these three amounts on the homepage cut the withdrawal time by 30%.

Public reactions to the BancoSmart interface have been extremely positive, with clients commenting on the increased speed, legibility, appealing graphics, and the improvement in features and functions. The highly intuitive ATM interaction allows clients to easily navigate, locate and use functions, from simple features like cash withdrawals to more complicated functions like deposits, information retrieval, bill payments and mobile phone top-ups. The interface is visually attractive and easy to read, with large fonts and clear banking function categories.

Bancosmart was selected for the ADI Design Index, the annual publication showcasing select Italian Design products considered for the Compasso d'Oro International Award. View our ADI Design Index showcase here.