Tarkett
Reinventing customer and supplier interactions in flooring

Reinventing customer and supplier interactions in flooring
Tarkett
Tarkett, a multinational flooring manufacturer, asked Experientia to explore ways to make them the easiest flooring company to interact with in Europe and the Americas. Experientia conducted in-depth ethnographic research, including contextual interviews and shadowing, in five different countries across Europe, the USA and Russia.

We investigated the diverse range of stakeholders of the company, from architects, to flooring installers, wholesalers and retailers.
Global research 
Our benchmark focused extensively on Europe, US, China and Japan while industry experts joined our research from 5 different countries, bringing insights from all around the world. Our local researchers conducted contextual interviews with architects, installers and retailers across five countries, ranging from observations of fitters removing flooring at Paris' Roissy airport to discussions about design choices with architects in New York.

Driving digital transformation 
Design principles modelled empathic, people-centric frameworks for developing self-service experiences.

Innovation playbook in action 
Experientia designed innovative client-centered product/service solutions to improve supply chain performance, internal processes and company culture and grow Tarkett customer experiences.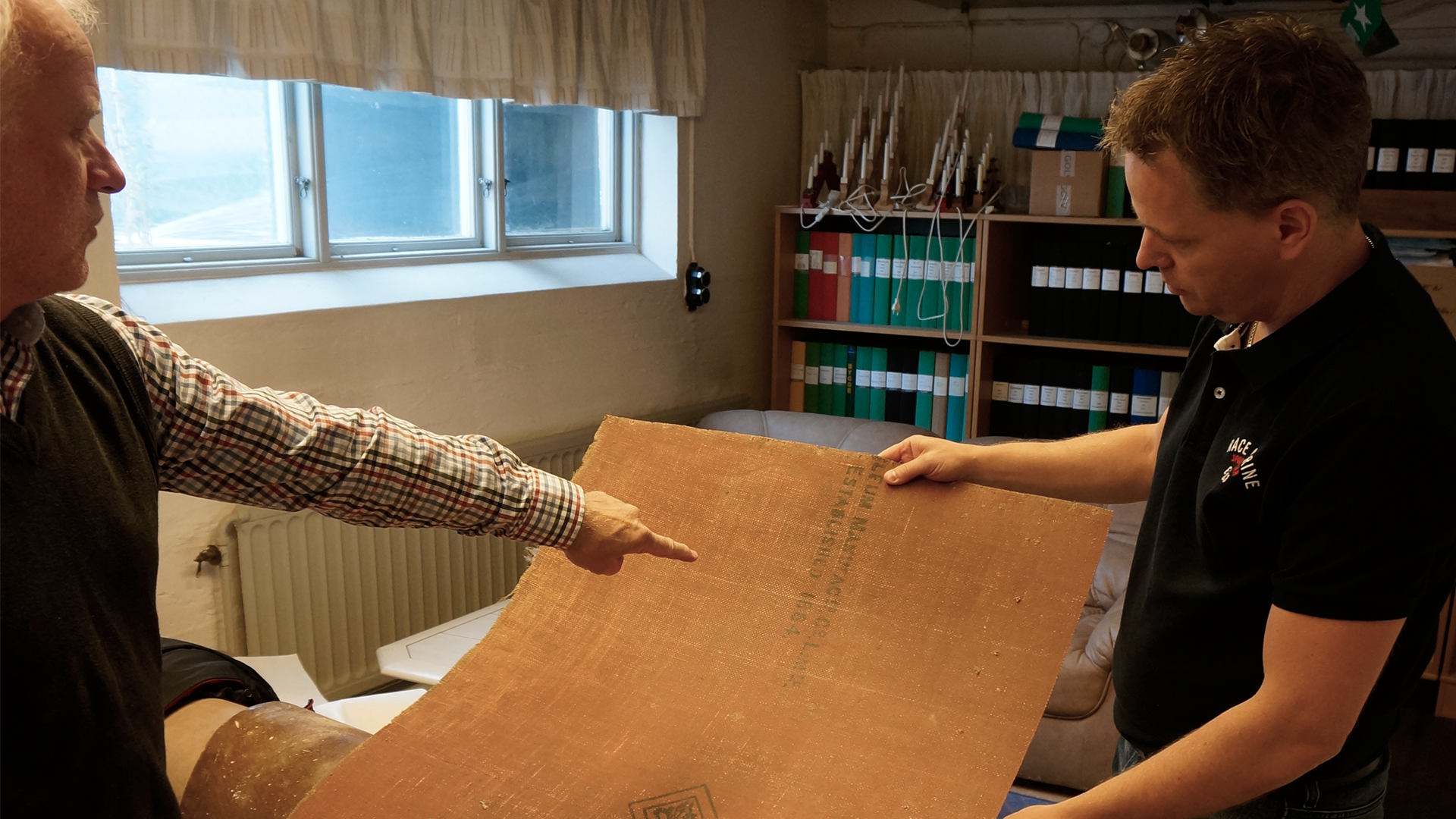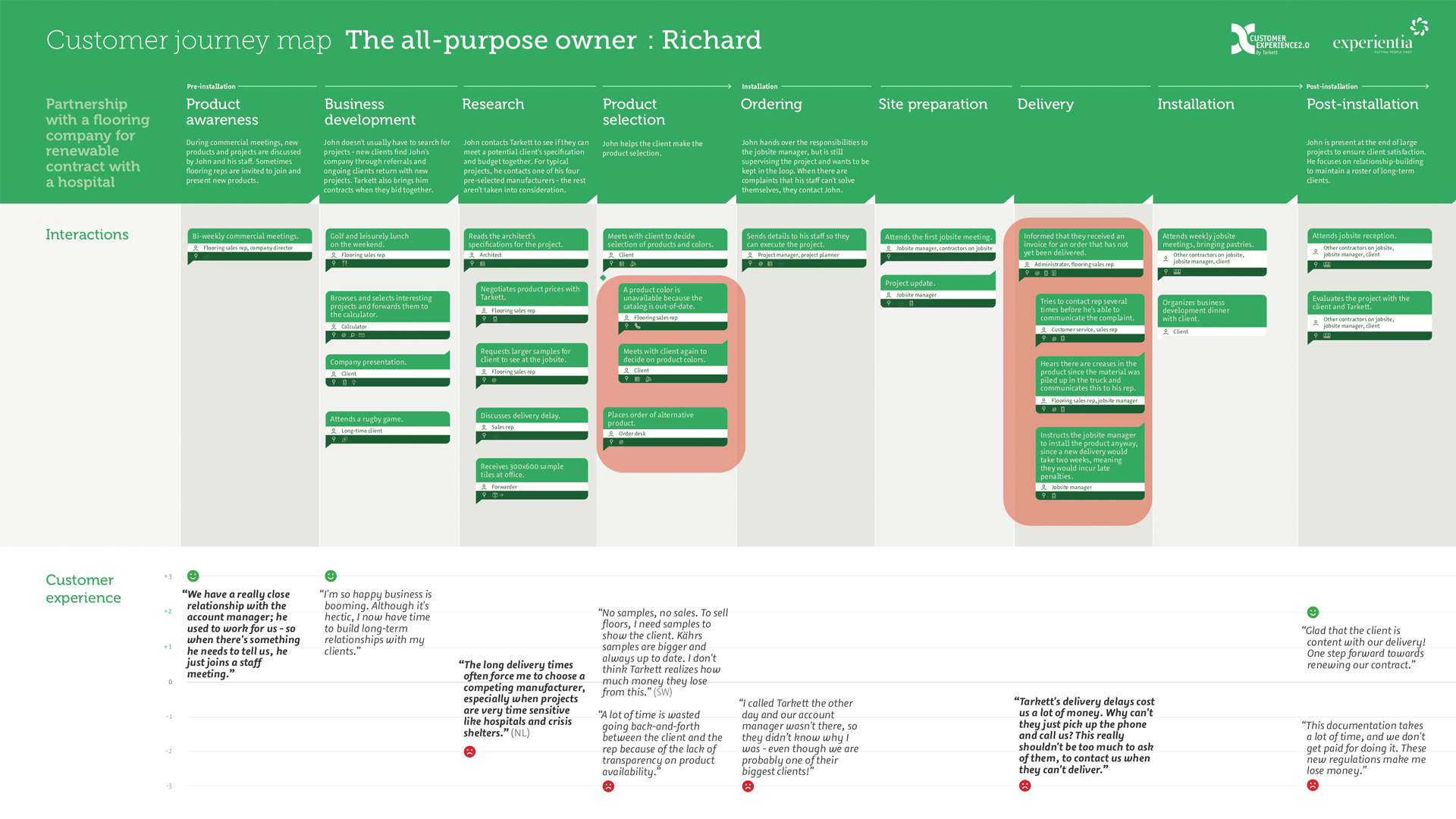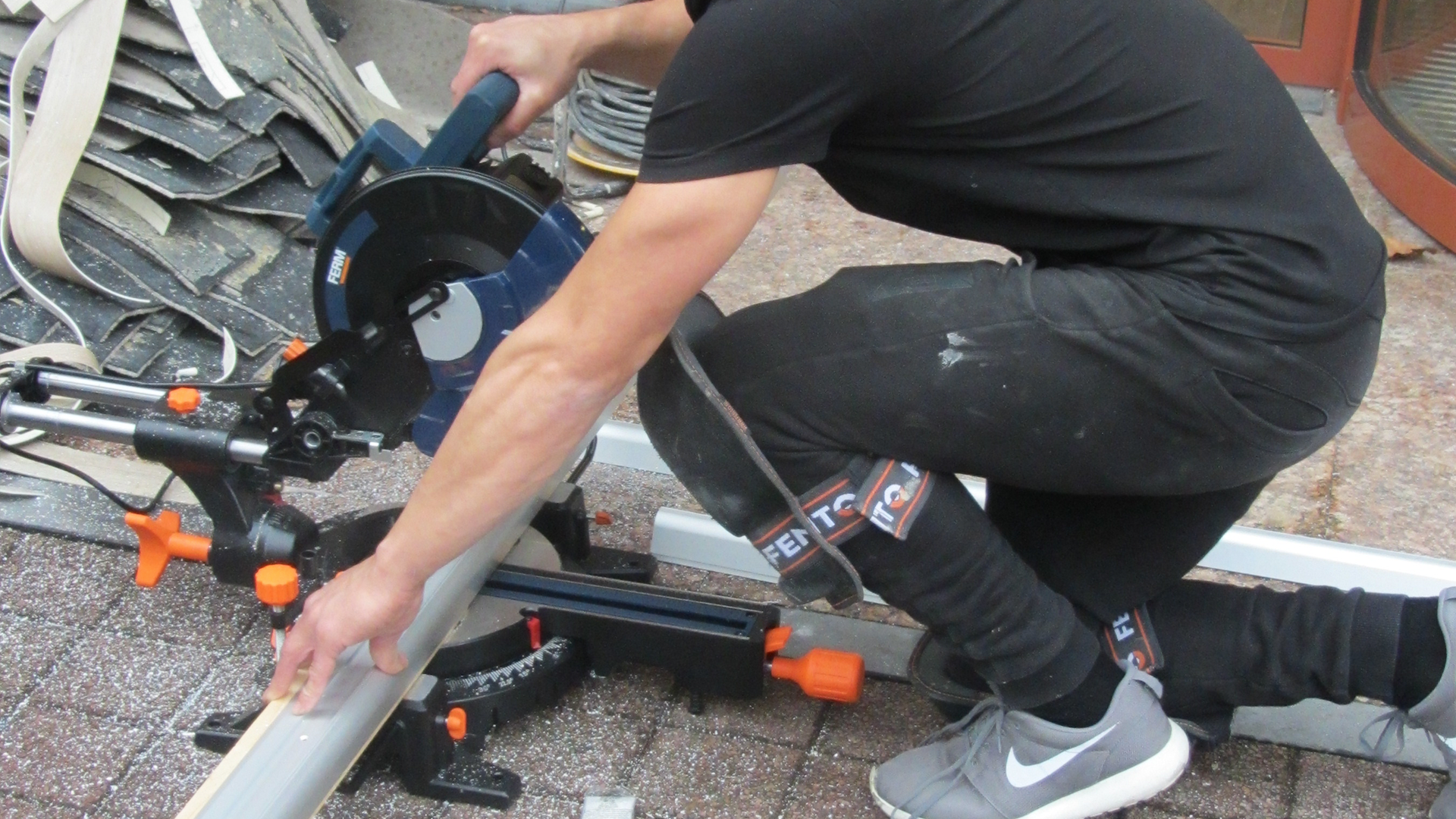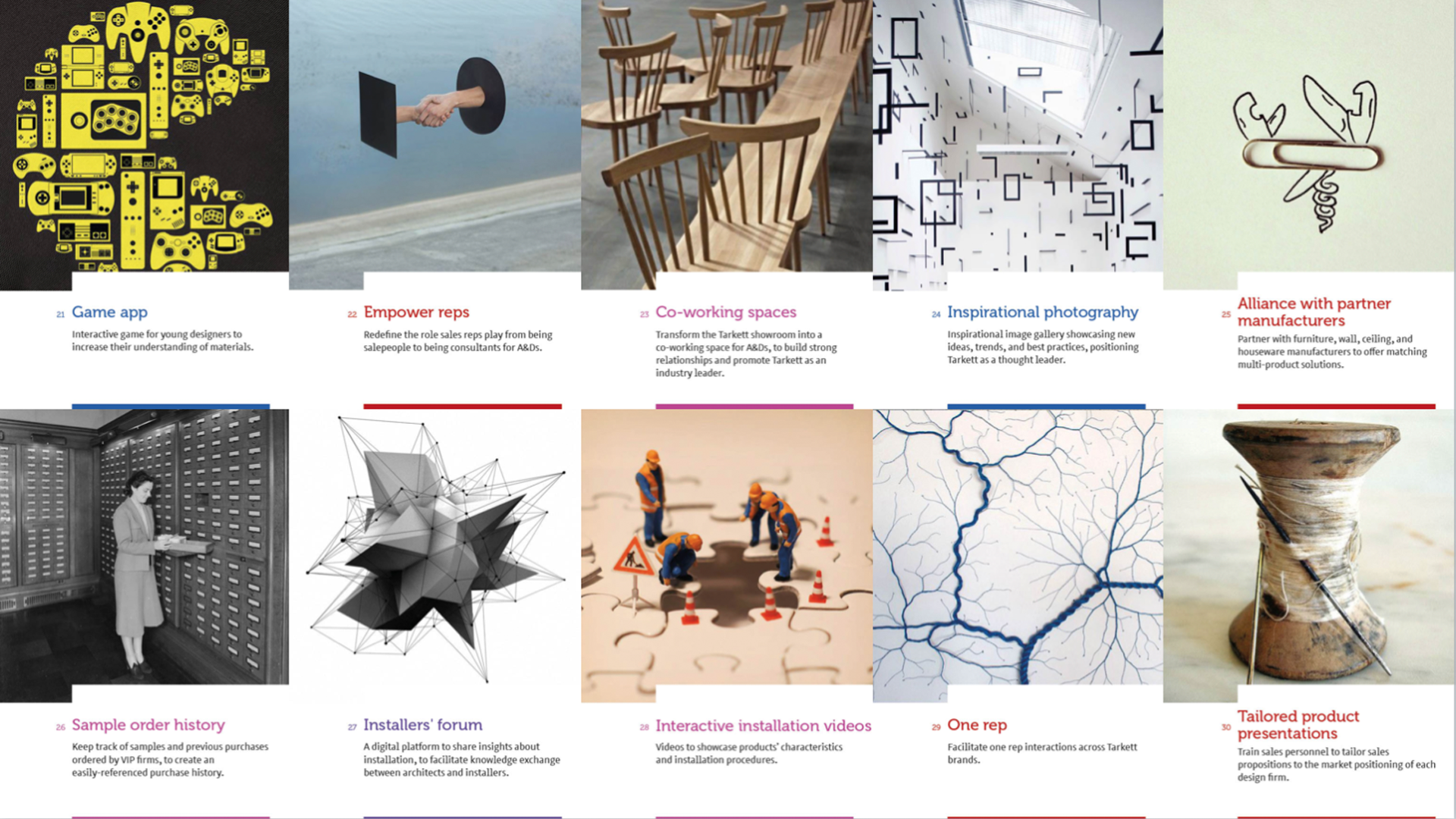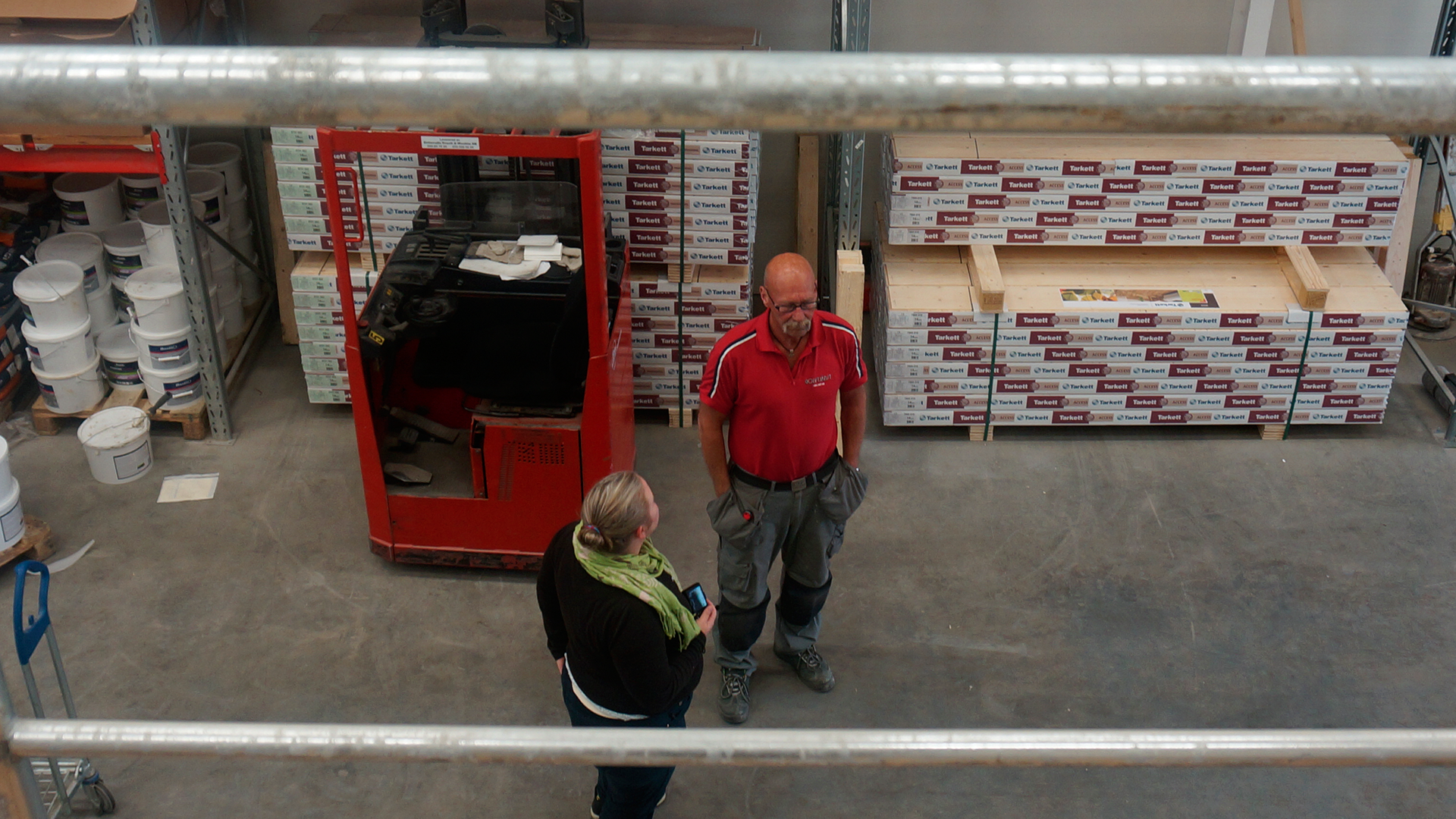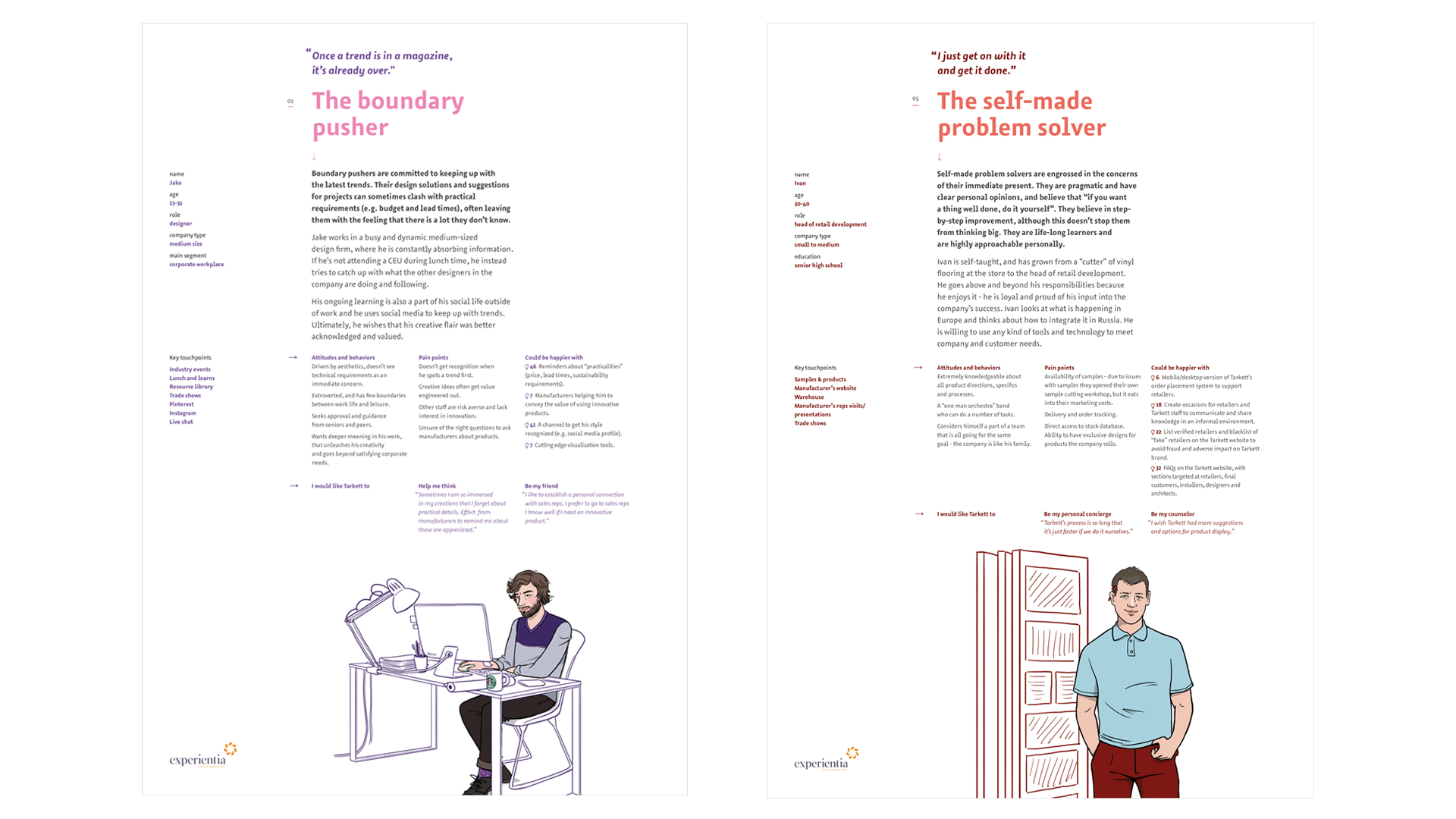 Context
A historic manufacturer of flooring products of all types, Tarkett faced the challenge of having to address increasingly fast supply lines at construction sites, while the move to digital experiences meant that they had to rethink and restructure their entire service experience.

Challenge
Our role as Tarkett's user experience partner was to consolidate key knowledge dispersed across regional and functional divisions, act as an objective research partner in communicating their customers' varied service and product needs and propose relevant, innovative solutions to improve the customer experience.

Research
Experientia interviewed and observed 80+ architects, flooring installers, wholesalers and retailers In USA, France, Netherlands, Sweden and Russia, using a range of ethnographic research methods including expert interviews, contextual inquiries and co-creation workshops. Stakeholders interviews and co-creation exercises with a variety of professional roles mapped the supply chain experience of commercial flooring products and services.
Fieldwork results, customer journey maps and personas identified emerging themes ranging from sales relationships to life cycle approaches, product sampling to information management, deliveries to work flow issues.
This initiative combined Tarkett's EMEA, Russia and North America teams to share knowledge and work together on developing promising service concepts. To ensure that expert knowledge was incorporated into foundational research, we conducted stakeholder interviews with a range of employees from country sales managers to C-suite executives, who we involved throughout the research design and ideation processes.

Design
Experientia generated 150+ service opportunities for the different market segments. Co-design sessions with architects, interior designers, installers and retailers evaluated, prioritised and iterated select service opportunities. High value concepts were developed into concept prototypes and tested in the markets.

Impact
Our painpoint analysis was taken forward by the company into a detailed action plan: the simplest were addressed immediately, while other were the focus of more structured, longer term interventions. New initiatives and projects were launched, including a service for architects who could send their CAD drawings and renderings to Tarkett with 3 floor choices and would receive a few days later - and free of charge - a completed rendered visualization with those floors.